Alpa | I 6820-2
Vehicle data
Compare vehicles
Interior equipment
| | | |
| --- | --- | --- |
| Number of sleeping berths max. | 4 | - |
| Beds front | 210 x 75, 210 x 75, 200 x 165 (l x b / cm) cm | - |
| Beds lateral | | - |
| Beds alternative | | - |
| Beds mid | | - |
| Beds rear | 210 x 180/170 (l x b / cm) | - |
| Beds crossways | | - |
| Beds overcab | | - |
| Bed convert | | - |
| Elevating roof with bed | | - |
| Bunk bed latera | | - |
| Single beds | | - |
| Bunk beds | | - |
| Double bed | | - |
| Double floor | | - |
| Power outlets 230 V | 6 | - |
| Power outlets 12 V | 1 | - |
| Power outlets USB | 2 | - |
| Swivel driver seat | | - |
| Swivel passenger seat | | - |
| Transformer | | - |
| Happy Family layout | | - |
Fiat chassis
Right-hand drive chassis
Fiat Ducato Maxi ALKO low platform (4,800 kg incl. air suspension rear axle, reinf. springs, alloy rims) MultiJet 180 (2.2 l / 132 kW / 180 hp) HD, 9-speed torque converter autom. trans.
Weight upgrade
Single folding seats rear right and left incl. Isofix, bed construction seating group as well as the weight upgrade 4,800 kg with air spring HA, reinforced coil springs VA and 16" aluminium rims.
Fiat chassis features
Rear corner steadies (2 pieces)
Crosswind Assist
Anti-theft device
Front-wheel drive
Tyre inflation kit and towing eye
ABS (anti-lock braking system) / EBD (electronic brakeforce distribution)
Automatic Brake Assist after a collision
ESP incl. ASR, Traction Plus, Hill Holder and Hill Descent Control
Driver and passenger detection
Trailer Stability Assist
Chassis in right-hand drive version
Pleated blinds in the windscreen and side windows of the drive's cab for the best insulation and privacy
Captain seat with integrated headrest, rotatable, height and tilt adjustable incl. two padded armrests
Additional protection for radiator through grille at front of vehicle
Steering wheel with control elements
Low-vibration coach-style exterior mirrors that can be heated and adjusted electrically (two-piece)
Dashboard with aluminium application
Leather steering wheel and gear knob withleather sleeve
Driver's cab automatic A/C
Driver and passenger airbags
Cruise control
Diesel tank 90 litre incl. 19L AdBlue tank
Cup holder in the centre of the dashboard
Reinforced spring for front axle
Exterior features
Double floor storage, some of which can be loaded across almost the entire vehicle width
Rear garage: two garage door with one-hand operation, rear lowering (250 kg), heated, lashing rails, LED lights across the entire width, 230 V socket, GRP anti-slip flooring and fleece cove
70 cm wide living room door with window and blackout, electric closing aid and gas pressure damper as hold-open device
Lifetime Plus construction technology: rot-free superstructure with no wood inserts, XPS insulation with GRP cladding on the underslung and roof
Bedroom window right and left
Habitation access with comfortable coupe entrance
Driver's cab door left
Central locking additionally for garage doors
Habitation access with comfortable, wide, electric step
Central locking for the driver's cab and habitation door
GRP roof
Double-glazed flush-fitting windows with blackout & mosquito net (Privacy Black)
Floor thickness: 43 mm, side wall thickness: 34mm and roof thickness: 35 mm
Sky Roof (2 x panoramic skylight 70x50cm crossways) over the seating lounge in the rear
Side panels and rear panel in smooth aluminium sheets
Flyscreen habitation door
Dethleffs Exclusive rear light carrier with ShapeLine LED taillights and 3rd brake light integrated in rear spoiler
Exterior design
Exterior body painted in white
Interior design
Wood décor Ashton
Upholstery Samir
Textile equipment
Fixed beds with ergonomic wooden slatted frames and 150 mm thick 7-zone premium mattresses made of climate-regulating material
Carpet, loose
Furniture layouts
Bed convert for seating lounge transverse
Overhead lockers in the rear area
AirPlus overhead locker rear ventilation to avoid condensation
Overhead locker doors with soft-close function
U-shaped seating with free-standing, rigid table base and surrounding seating and backrest cushions with flexible headrest
Electric pull-down bed for single-bed use (without add-on elements)
Full body mirror
Kitchen
Gourmet kitchen: three-ring hob, large drawers with soft-close function, cutting board, apothecary drawers, waste bin and central locking
MultiFlex rail system incl. hooks (further accessories via Dethleffs Original Accessories)
Fridge (153 l), can be opened on both sides, with integrated oven
Extractor fan (extracted air) with draught stopper
Kitchen overhead locker with illuminated roof lining
Bathroom
Shower grid
Large bathroom with separate shower and toilet with locking door to the lounge
Shower panel and bathroom accessories in black
Equipped with cabinets, storage compartments, hooks, large mirrors and a height-adjustable shower head
Multimedia
DAB+ radio antenna mounted on the roof
Rear view camera (single camera)
Pre-wiring for satellite system
Flat-screen TV bracket
Preparation for radio system incl. sound package in the driver's cabin
Heating
Heating in the seating unit for optimum heat distribution, built-in
Hot-water heating
Electrical installation
Automatic switch-on/disconnect for starter battery, leisure battery and refrigerator
Spotlights in the roof lining above the habitation door
Leisure battery AGM, 95 Ah
Illuminated wardrobe
Indirect lighting in the bathroom with illuminated shower panel
Indirect ambient lighting on the walls
Luxus on-board control panel
Electric block with integrated overvoltage protection and separate ground fault circuit breaker
Pre-wiring for solar
LED lighting throughout the vehicle
Number of sockets 1x 12V, 6x 230V, 2x USB
Awning light 12 V
Indirect ambient lighting above the overhead lockers
Dimmable, indirect ambient lighting on the walls
Water supply
Pressurized water pump system
Fresh water and waste water tanks installed in double floor (insulated area)
Switch for water pump
Gas supply
Automatic gas cylinder switchover incl. crash sensor, EisEx and gas filter
Storage space for 2 gas bottles with a filling weight of 11 kg each, with simplified access
Safety
Fiat chassis features
Tow bar (check permissible gross towing weight for trailer operation)
SKA captain seat with air suspension
Seat heating and ventilation of the seat area
LED low beam
Hydraulic lifting jacks with automatic levelling and weighing function
Exterior features
Exterior design GT (rear light moulding with black diffuser, radiator grille with chrome piping, skidplate "red")
Roof vent with fan
Omnistor cassette awning 5.0 m (manual)
Omnistor cassette awning 5.0 m (electric)
High characteristic Dethleffs Exklusiv rear light carrier with ShapeLine LED taillights and 3rd brake light
Exterior design
Side panels in metallic titanium silver
Interior design
Real leather individual
Real leather upholstery Colin
Upholstery Melia
Bathroom
Macerator toilet with waste-holding tank
Ceramic toilet
Toilet ventilation via the roof
Multimedia
32" TV (incl. bracket, DVB-T 2 HD/T, DVB-S2 receiver, HDMI, wide angle) incl. sound board
Dethleffs Naviceiver incl. DAB+, truck navigation and connection to on-board control panel
Additional 22" flat-screen TV (incl. DBV-T 2 HD/T, DVB-S2 receiver, DVD, HDMI, wide-angle)
Second reversing camera in rear moulding
Automatic satellite system 85 Twin
22" flat-screen TV (incl. DBV-T 2 HD/T, DVB-S2 receiver, DVD, HDMI, wide-angle)
Additional flat-screen TV bracket
Top View 360° HD camera
Heating
Hot-water carpet for the driver's cab
Heat exchanger for hot-water heating
Air Conditioning
Electrical installation
336 Ah lithium battery
168 Ah lithium battery
Victron Energy MultiPlus charging/inverter combination 1600W/70A
Solar power system 100 watt
Victron Energy MultiPlus charging/inverter combination 3000W/120A
Victron PowerAssist and PowerControl
Electric block EBL 102
Victron control panel above the habitation door
Water supply
Outdoor shower (cold water)
Gas supply
Outdoor gas socket gas pressure 30 mbar
Safety
2 kg fire extinguisher
Alarm system (for door with central locking)
Safe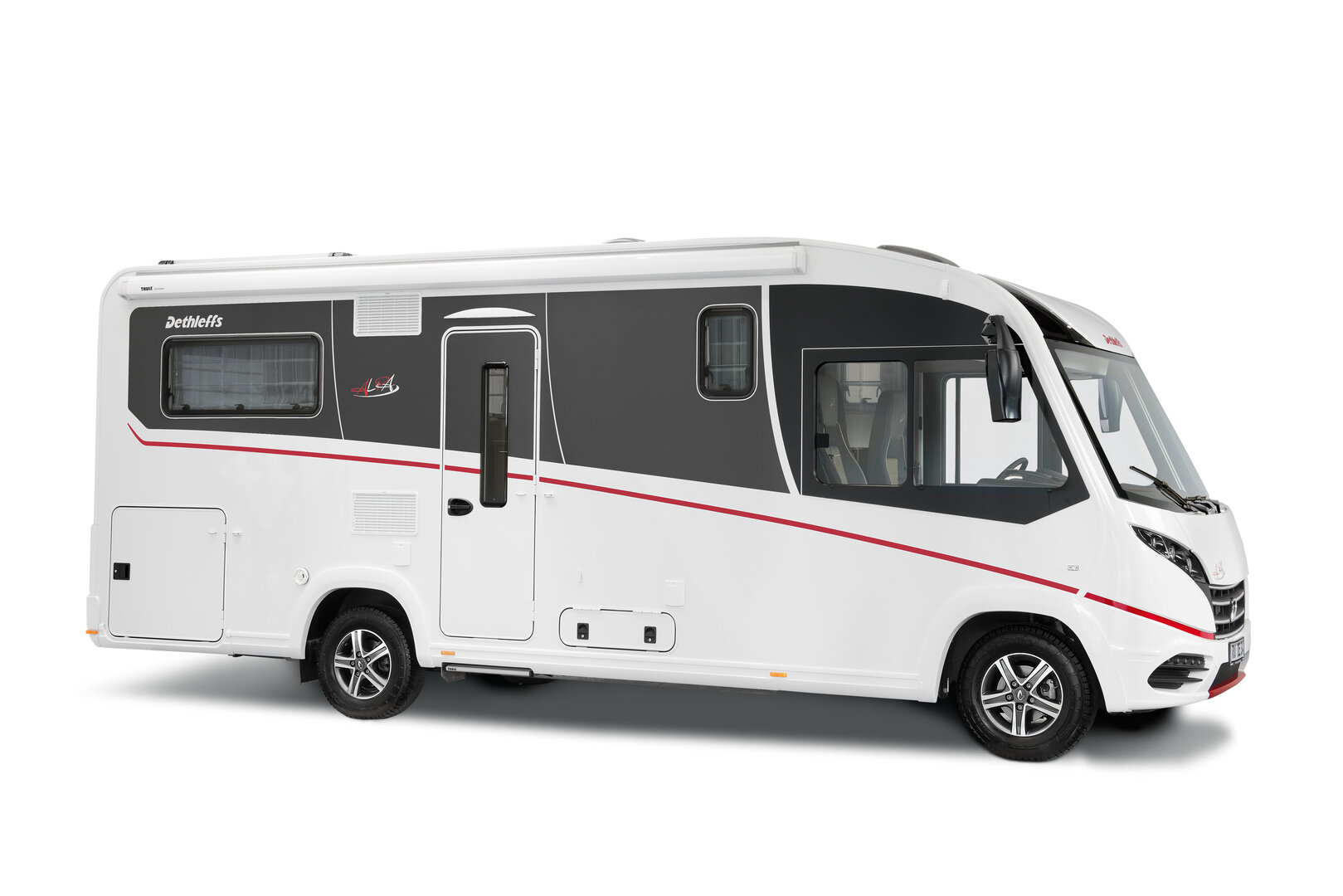 configure Alpa I 6820-2